Hobbes
Jason and Lisa are my absolute lifeline. They mind Hobbes whenever I'm at work and treat him so well that Hobbes doesn't want to come home! I rely on Jason and Lisa to look after Hobbes and am always reassured that they have his best interests at heart. They care for him as if he were their own, and take him on all sorts of adventures. Hobbes is a lucky boy to have them in his life.
– Davina Rimmer
Iron Dog is a very special dog service. They combine great skills in behavioural training with a passion for treating dogs well. Whether it's dog training, dog minding or nutrition they provide exceptional service and flexibility in responding to individual customer needs. Friends who use them feel the same way and I have no hesitation in recommending them.
– John Rimmer
George & Jade (RIP)
Jason and Lisa have been part of our dog's lives for over two years. They walk and care for our golden retriever, George, on a weekly basis. Jason and Lisa treat our dogs like their own, welcoming them into their home and their lives. Over the last few years we have noticed a significant improvement to George's walking behaviour and general socialisation. Jason has transformed George into the beautiful boy he is. Earlier this year our labrador Jade passed away. Jason and Lisa showed the utmost care and compassion when Jade was sick and subsequently passed. I trust them implicitly. They are reliable and honest. This is not just a job for Jason and Lisa, this is their passion and it's obviously by how excited George is whenever he sees them.
– Catherine Moores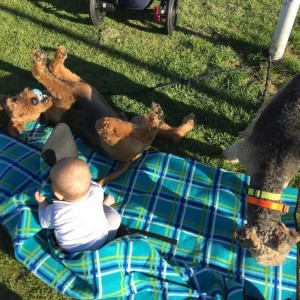 Henry & Mavis
I knew I was onto a winner with Iron Dog when my rambunctious airedale puppy miraculously turned into a model citizen when Jason knocked on the door. Ten minutes later, he had stopped jumping up and five minutes after that he was walking on heel.
Jas and Lisa have a great knowledge on dogs, breeds and temperaments. Their personalised dog training, natural food and treats and even staycations and excursions have been a hit with my two airedales. I can't thank them enough for their services and will continue to recommend them to anyone and everyone!
– Imogen McBain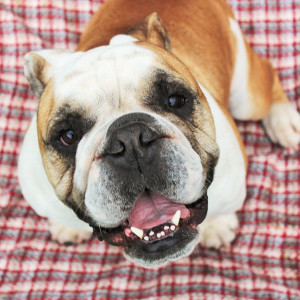 Robbo
We have been using the services of Iron Dog for two years now and can not rate them any higher. First to train our unruly British bulldog who had extremely anti-social behaviour; secondly for walking our beautiful boy twice a week as he needs to be tired out to keep him on his best behaviour (well, the best for him anyway!); and thirdly, for caring for our boy while we have taken overseas trips. We would highly recommend their services to anyone and we will continue to use their services on a regular basis.
– Donna and John Cott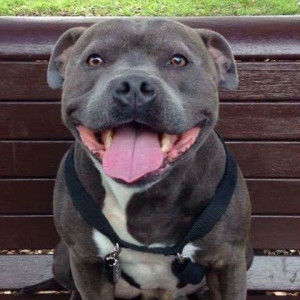 Arnold
I took my staffy to Iron Dog to enable them to work on walking recall and dominance. He was there for just over a week and is now so much better with walking next to us on the lead and his socialisation. We also learned a lot about us and how our reactions play a huge part in Arnold's behaviour.
– Lauren Cott
Jock
You will find no-one better than Jason and Lisa to look after your family pets. We consider ourselves very lucky to know that when we are away, due to work and family commitments, that Jock is looked after like he is at home.
– Sandy Lawson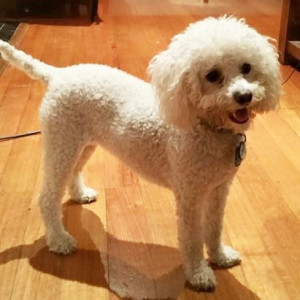 Coco
Our dog Coco is very particular about who she spends time with. For the last three years we have sent Coco to Jason and Lisa for the duration of our annual holiday (two to three weeks) and several long weekend throughout the year. Each time I tell people that Coco had a better holiday than us! The level of attention and interaction from Lisa and Jason is remarkable. We never go away worried how she is doing and Coco loves her stay every time. When Jason picks her up, the excitement is uncontainable. Sometimes I think she would rather stay with these guys. Thanks for your ongoing support with our precious Coco.
– Alison Tighe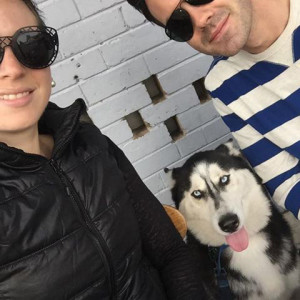 Saba
Thank god for Iron Dog! Our disobedient, selective hearing, anti-social husky has been transformed into an angel! Not only has he been trained and taught perfect manners, but he has also been given a second home to reside at whenever we are out of town. Very accommodating, hugely professional, would highly recommend to anyone!
– Leah and Greg Bowtell
Arty & Lyla
My dogs love spending time with Jason, Lisa, Murphy and Milly – and all their friends. They always come home with smiles on their faces and lots of stories to tell! I feel confident that they're in good hands, much loved, well exercised and safe.
– Lennie Beattie